Pest Control Byford
Are you searching for effective pest control in Byford to restore the health of your space? Do you notice frequent pest issues at your Byford property and see a decline in the health of your environment?
We have a few decades of relentless service across Australia and became a household name for superior quality pest control services.
With decades of service, advanced pest control procedures, and the use of technology, we offer the most comprehensive pest control solutions to our Byford customers. We have local pest control teams in all the suburbs of Perth, including Byford. And this allows us to give quick and emergency pest management solutions to our customers.
Create your space pest-free with an upfront quote – no strings attached.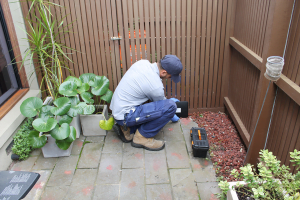 Cockroach Control Treatment
Cockroaches are not just filthy; the pest group can put your health in danger if you fail to address the infestation on time. Studies confirm that cockroaches carry several millions of pathogens and spread various severe health issues, including typhoid fever, cholera, salmonellosis, E-coli infections, and more. Cockroaches are one of the immediate reasons for childhood asthma.
With advanced knowledge on cockroaches and their characteristics, our cockroach pest technicians in Byford will identify all traces of the infestation at your property and provide effective extermination solutions. We may also advise you specific property hygiene tips and complete certain repairs to minimise future infestation risks.
Ant Pest Control
Byford and suburbs report a few venomous ants that can cause burning sensations, redness, allergic reactions, and more. Regardless of the species, most ants cause localised pain and discomfort with their bites.
They also feed food, wooden furniture, attack pets, damage clothes and other personal properties, and quickly become a serious threat to your peaceful life.
Our ant pest technicians will identify the ant species infested at your Byford property, evaluate the extent of the infestation, and provide tailored ant pest treatment services. We will also create an ant barrier around your property with preventive treatments and ongoing control tips to minimise future infestation risks.
Termite Pest Control Byford
Termite is one of the worst enemies to properties because of the pest's ability to create widespread damage. The pest feeds wooden structures, furniture, documents, papers, personal properties, and more.
Importantly, both dry wood termites and subterranean termites – species reported in Australian properties – multiply in large numbers and quickly become a nightmare for the property owners.
Our experienced pest technicians provide prioritised services for termite issues and will finish a detailed inspection covering every inch of your property. We will remove termites from your environment completely through advanced extermination procedures.
Our termite control technicians in Byford will also create a termite barrier around your property with wood treatments, soil treatments, and preventive measures.
Rodent (Rat/Mice) Control Treatment
Whether your Byford property has rats or mice, the damage due to the pest is often beyond your expectations. Rodents damage properties, chew your personal products and clothes, spread various diseases, contaminate food by consuming and defecating on it, and become a nuisance to your peaceful life. As soon as you notice rodent infestation at your Byford property, it is important for you to get comprehensive pest control.
We will identify the reasons that attract rodents to your property through a thorough inspection. Based on that, we will complete an extermination and prevention treatments to safeguard your property from future infestation. We will also advise you specific ongoing control tips and make repairs to make your Byford property less attractive for the pest.
Other Affordable Pest Management Solutions
We have solutions for all the pest issues at your Byford property – no matter the pest type, species, or complexity of infestation. Our deeper knowledge of various types of pests, their characteristics, habitats, type of damage they make, and more help us to create tailored solutions based on the infestation.
Our other pest management solutions include the following:
Borer control
Fox trapping and control
Mite control
Possum control
Wasp extermination
Bed bug treatment
Beetle control
Mosquito control
Flea treatment and control
Silverfish treatment
Moth control
Bird trapping and control
Fly control
Spider extermination and control
Visit our service pages to learn more about damage due to various pests, our treatment procedures, ongoing control tips, and more.
Do you have specific questions related to our service or the pest infestation at your Byford property? You can always contact our pest technicians for information, tips, and recommendations.
Commercial Pest Control Byford
Commercial spaces are always at increased risk of pest infestation due to more human activity.
Especially food industries can attract various types of pests to their environment if proper hygiene and prevention procedures are not in place. Pest issues in commercial spaces can turn away customers and make a blow to reputation and revenue. Plus, regulatory agencies may come into the picture.
We offer tailored commercial pest control in Byford to help businesses to make their spaces pest-free and welcoming to their customers.
General Commercial Pest Management
Certain industries may experience more complex pest issues than others. They might see multiple pests in their environment due to the type of business they run. If you see mosquitos, fleas, flies, cockroaches, ants, and other common pests in your environment, you can get our commercial pest management service.
With a single treatment, you can make your space free of:
Cockroaches
Ants
Spiders
Silverfish
Fleas
Flies
Mosquitos
Beetles
Mites
The treatment also gives you the option to remove various types of pests from your environment all at the cost and efforts of a single treatment.
Pest-Specific Treatment Solutions
Your commercial space may have a single pest type, and all you want is to remove the pest from the environment. In addition to general pest management, we also offer the following pest-specific services to help our customers to create a healthy commercial environment for their customers:
Termite control
Wasp treatment and control
Rodent control
Possum removal
Bird control
Fox trapping
All our procedures are licensed and insured to give you guaranteed results. Our pest technicians are TAFE and APCA certified to give highest quality pest management services.
Regardless of you want commercial pest control or residential pest management in Byford, we assure you 100 percent satisfaction with our services. If you notice that the pest infestation at your property is not subsidised after our treatment, you can contact us within two weeks and let us know the details.
Our pest technicians will quickly come back to your property, identify the issues, and provide a comprehensive pest treatment for FREE.
Expert Pest Control Byford That You Can Rely On
Call us on (08) 6202 7096 or use our quote form to let us know the pest issues at your Byford property and get an upfront quote for comprehensive pest management.
Pest Control Byford
Call us on (08) 6202 7096 Same Day Pest Control Services
Location: Byford, 6122, Australia.