Effective Chemical Termite Barriers Treatment in Perth
Tom's Pest Control Perth is your trusted provider of termite barriers and treatments with over 20 years of experience in the local area. We understand the importance of protecting your home from termite damage and excessive repairs, which is why a termite barrier is a must-have.
In Perth, termites, also known as 'White Ants', are a significant concern. Imagine the devastation of your home being torn apart without even realising it until it's too late! That's why investing in a termite barrier treatment is crucial to safeguard your Perth home.
At Tom's Pest Control Perth, we offer exceptional termite barriers that are among the best in the market. As industry leaders in pest control, we pride ourselves on providing thorough and comprehensive solutions that you can rely on.
Book Your Termite Barriers Services Here

We Offer Two Types Of Chemical Termite Barriers:
For new homes, physical termite barriers are typically installed during construction. However, existing homes require professional intervention. Our skilled pest control technicians can employ a range of chemical termite barrier sprays to prevent termites from entering your property.
Repellant Chemical Barriers: These repellents are designed to keep termites at bay. While effective, the downside is that termites can detect areas where the repellent hasn't been applied, leaving room for exploitation.
Non-repellent Chemical Barriers: Our preferred choice at Tom's Pest Control Perth, non-repellent termite barrier sprays are undetectable by termites. They kill termites on contact, ensuring their eradication. We use this chemical termite barrier to protect your home effectively.
How Long Does A Termite Barrier Last?
By choosing Tom's Pest Control Perth, you can rest assured that our termite barrier treatments are built to last, providing long-term protection and peace of mind.
Protect your home with Tom's Pest Control Perth – the experts in termite barriers and treatments. Contact us today!
Termite Barrier Cost
Before giving you an accurate quote, our dedicated team will meticulously inspect your property. We consider various factors, such as size, time, and required products, to determine the termite barrier cost. Rest assured, opting for a termite barrier treatment is substantially cost-effective and stress-free compared to a full termite extermination. Upon completion, you will receive a certificate and accompanying paperwork, offering you peace of mind.
What Should I Expect From My Chemical Termite Barrier?
With a plethora of termite prevention and treatment options available, it's important to choose one suitable for your specific conditions. Our termite barriers are designed to bond with the soil, creating a continuous barrier that withstands challenges. To achieve this, we adopt a comprehensive approach, leveraging our expertise and industry experience.
At Tom's Pest Control Perth, we understand termite behaviour inside out. Our strategy revolves around targeting moisture and mould, as termites are naturally attracted to these elements. We meticulously address weak points, such as downpipes, hot water systems, and exterior air-con vents, ensuring comprehensive protection against termites.
Get in touch with us today to safeguard your property from the threat of termites. We're here to provide you with effective solutions and unparalleled peace of mind.
Traditional Liquid Termite Barriers: Ensuring Long-lasting Termite Protection
When it comes to safeguarding your home from termites, traditional liquid termite barriers have proven to be the go-to choice for homeowners. These popular forms of termite protection involve the application of a liquid termiticide, which can be sprayed underneath a slab during new home constructions, around the external perimeter of an existing house, or piped through a
termite  reticulated system
surrounding your property.
What sets liquid termite barriers apart is their ability to provide long-term protection, typically ranging from 5 to 10 years. However, it is important to note that re-application will be necessary after the expiration of the barrier's lifespan. At Perth Pest Control, we offer four registered termite barrier products, each catered to your specific needs and preferences.
Explore These Products In More Detail:
Biflex Aqua Max – Our Popular Choice
Biflex Aqua Max is our most sought-after termite treatment option. This odourless, water-based, and synthetic pyrethroid solution emulates the highly effective insecticide pyrethrum, derived from the pyrethrum daisy. With Biflex, you benefit from the longest protection period among termiticides. Rainfall or lawn and garden watering won't cause the barrier to leach away, thanks to its non-leachable formula. Moreover, Biflex Aqua Max is non-systemic, so your garden plants and other vegetation won't transport the barrier away from the treated area. With this treatment, your termite problems are swiftly resolved through killing and repelling termites, while an invisible protective shield is established around your home for a solid 10 years, backed by our comprehensive warranty.
Termidor – Encouraging Termites to Spread the Treatment
Termidor is a relatively new water-based and odourless treatment that has gained considerable popularity in recent years. Instead of functioning primarily as a barrier to repel termites, Termidor lures termites into a treated zone, where it bonds to their cuticles. Though termites won't perish immediately, their social behaviour ensures that they pass the toxin onto others in the colony. Even termites that don't directly encounter the treated zone will eventually succumb to the infection, thanks to contact with infected nest mates. Termidor comes with an 8-year warranty, offering an extended period of termite protection.
Premise – Unseen Yet Highly Effective
Similar to Termidor, Premise is a non-repellent termiticide. Its ingenious formulation ensures that termites remain blissfully unaware of its presence as they enter treated zones, unknowingly carrying the poison back to the colony and infecting other members. Water-based, non-odorous, and low in toxicity to humans and pets, Premise treatments come with a 5-year warranty, providing you with peace of mind.
At Perth Pest Control, we understand the significance of effective termite protection. With our range of traditional liquid termite barriers, you can count on long-lasting defence against these damaging pests. Consult our experts today to determine the ideal solution for your home.
Introducing Altriset: A Revolutionary Solution for Termite Control
In the battle against termites, Altriset has emerged as the latest liquid termiticide, marking a significant breakthrough. What sets Altriset apart is not just its exceptional effectiveness, but also its environmentally friendly nature as a natural water-based termiticide. Remarkably, it has obtained exemption from poison scheduling by the esteemed Australian regulatory authorities due to its impeccable safety record around humans and pets.
The power of Altriset lies in its active ingredient, derived from a naturally occurring compound found in the bark of the South American plant, Ryania speciosa. Harnessing the potential of this plant, scientists have formulated a termiticide that functions unlike any other. Opting for Altriset means choosing a low-dose treatment with long-lasting residual control, effectively targeting termite muscles and halting their feeding within hours.
Rather than acting instantaneously, Altriset's unique mode of action facilitates increased transfer within the termite colony, ensuring a more extensive eradication process. This controlled elimination of termite infestations makes Altriset a groundbreaking solution for residential termite barriers, backed by a 5-year warranty for ultimate peace of mind.
At Perth Pest Control, we prioritise not only the efficacy of our termite barriers but also the safety of our clients and the environment. That's why all our treatments are water-based, ensuring a scentless and eco-responsible approach while posing minimal hazard to humans, cats, dogs, and other mammals. While solvent-based alternatives may appear tempting due to their lower cost, we have witnessed the associated health problems during the drying process, particularly for asthmatics. Rest assured, we only recommend and employ water-based treatments, delivering uncompromised termite protection with an added touch of environmental friendliness.
Moreover, it's worth noting that Australia boasts one of the most rigorous pest control regulatory systems worldwide. As such, all termiticides used in common practice have undergone meticulous evaluation and testing, earning the approval of state and national government authorities. At Perth Pest Control, we are deeply committed to adhering strictly to all applicable government regulations concerning the methods and treatments employed for termite control, ensuring the highest degree of professionalism and compliance.
Experience the Altriset advantage and join us in revolutionising termite control. Contact us today for a comprehensive assessment of your termite control needs.
Our Dedicated Technicians Go Above And Beyond To Safeguard Your Home:
Thoroughly inspecting and addressing suspect areas such as tree stumps and timber
Expertly drilling and applying termite barriers to concrete slabs and pavers
Employing a comprehensive blanket spray for homes with subfloors
Focusing on foundation and penetration areas where termites can enter
Get a Free Quote for a Termite Barrier In Perth
At Tom's Pest Control Perth, we are committed to protecting Western Australian homes like no other. If you've noticed signs of termite damage or are uncertain about your last termite inspection, get in touch with our experts today. Safeguard your home and enjoy peace of mind.
Get the Ultimate Shield Against Termites, Backed by a $2 Million Warranty
Termite Exterminator Extraordinaire: Termidor is a powerful termite spray treatment effective against various types of termites, including dampwood, drywood, subterranean, and Formosan termites.
Pest Control Perth Swears By: Unlike other termite control sprays, Termidor exterminates termites both by touch and ingestion, making it the best choice for white ant control in Perth.
Unbeatable Speed: Termidor controls entire termite populations faster than any other treatment, although it acts relatively slowly on individual termites, ensuring they spread the termite spray to others through contact or feeding.
We're not just confident about the effectiveness of Termidor; we're committed to safeguarding homeowners who choose our Termidor treatment.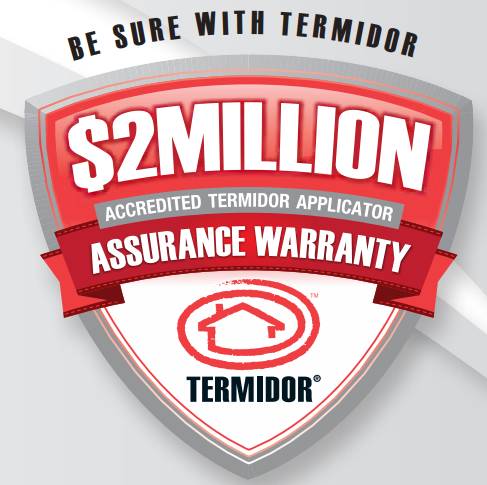 The Termidor Assurance Warranty: Your Ultimate Protection
The Termidor Assurance Warranty is exceptional. It covers your home for structural damage up to $2 million, offering you high-level termite protection both on paper and in the ground. This warranty also ensures your home is treated by an accredited Termidor applicator using genuine Termidor – not an inferior copy.
To activate your warranty, simply talk to your accredited pest controller at Tom's Pest Control Perth. Please note: The Warranty offer is available to Australian homeowners only.
Why Homeowners Trust Termidor
Over the last 21 years, more than 400,000 homeowners have put their trust in Termidor, without a single product failure. Termidor is Australia's number one trusted brand for termite control and provides long lasting treatment for at least eight years. Termidor also comes with a Termidor Assurance Warranty that covers your home for structural damage of up to $2 million to give you peace of mind for your most valuable asset.
Termidor HE The Most Advanced Termite Protection Yet
In 2017 BASF introduced Termidor HE 'High Efficiency' termiticide, the next step in termite treatment following Termidor Residual. Termidor HE is an advanced termite protection solution, which allows the establishment of uniform and consistent termite protection for your home, whilst reducing the risk of damaging the aesthetics of your home.
Why Termidor Is Advanced Termite Protection Yet?
Optimised efficiency with reduced disruption, digging and drilling for application

New Advanced Polymer Technology creates an enhanced protection zone and transport of the active ingredient.

Unique application flexibility with wider drill hole spacing and shallower trench depths for treatment convenience when treating around complex footing designs.

Unique Termidor Transfer Effect™ ensures the powerful active is passed throughout pest populations, without detection, for total population control.

Flexible and adaptable use capacity in conjunction with bait treatments.
Termite Proof Your Home with Australia's Trusted Termiticide
For over 10 years, Termidor has been the trusted brand for termite control in Australia. Now, with the Termidor Assurance Warranty covering structural damage up to $2 million, you can enjoy a new level of confidence, security, and peace of mind.
Whether you need white ant treatment in Perth or are curious about termite spray cost, trust Tom's Pest Control for the best solutions. We're here to help you safeguard your most valuable asset – your home.
Termidor Residual The Original Termite Solution
Termidor Residual Termiticide and Insecticide provides the most superior levels of control against termites, as well as a range of other pests, including ants, cockroaches, spiders, and flies. Termidor has been developed with BASF's advanced non-repellent technology, providing significant advantages over other inferior insecticides.
What's involved?
An Accredited Termidor Applicator will conduct a thorough inspection of your property – should termites be found, a treatment with Termidor Foam will be required to quickly stop activity within your home.
A trench will be dug around your home in preparation for the Termidor application.
Termidor will be applied to the soil as it is back filled.
Holes are drilled through paths and concrete areas or concrete is cut away to gain access to the soil.
Pavers, if not concreted in, must be lifted, the soil treated underneath and the pavers re-laid.
Some soils, such as heavy clays, may be removed and replaced with a sandy loam before treatment.
A follow-up visit is recommended by your Accredited Termidor Applicator.
Ongoing inspections of your home and surrounds at least every 12 months, and more frequently in high risk situations, are recommended.
Termidor Termite Treatment® FAQ's