Termite Control Perth: Comprehensive Termite Treatment Solutions
The Ultimate Termite Control Services in Perth: Tom's Pest Control
Termites can turn your dream property into a nightmare, causing severe damage and chaos. If you've spotted signs of termite infestation, such as unusual earthy materials around your premises, it's time to take immediate action.
At Tom's Pest Control, we are your go-to termite specialist in Perth. We offer:
Free Onsite Assessment & Quote: Our qualified technicians will visit your home or business and provide an obligation-free assessment of the best way to handle your termite problem.
Professional Termite Solutions in Perth: After inspecting your premises, we offer cost-effective termite treatments tailored to your situation for optimal results.
Termidor Termite Spray Treatment: Providing a highly effective protection zone that gives you peace of mind for a long time.
Range of Services: Besides termite treatment, we also have an array of pest control services to suit various needs.
With termites affecting one in every two homes, regular termite inspections are essential. Breathe easy knowing your property is safeguarded by our expert team at Tom's Pest Control.
We are available for residents and commercial properties in north, south, east and west Perth including Wembley, Scarborough, Subiaco, Mount Lawley, Cottesloe, Waterford, Scarborough, Fremantle and everywhere in between.
As licensed termite control specialists, we're committed to providing leading termite protection in Perth. Contact us today for a same-day, obligation-free quote and start protecting your property from termite infestations.
Book Your Termite Control Services Here
What People Are Saying About Tom's Pest Control Perth
If you're looking for the best termite control in Perth, our testimonials speak for themselves. Tom's Pest Control Perth has been recognised by customers for our outstanding service as we have been providing cheap termite treatment in Perth without compromising on quality for years. Rated as one of the best termite treatments in Perth, Tom's Pest Control is also known for our effective same-day pest solutions.
"Fantastic service. Very easy to book and the job was completed quickly. Very happy customers"
"Amazing, professional work. Arrived on time and was very friendly. Highly recommended"
"Great experience with Tom's Pest control! Reliable professional service"
Termite Inspection
Our comprehensive termite inspections in Perth provide a meticulous examination to uncover any existing termite activity and evaluate the level of infestation. With the aid of cutting-edge tools and techniques, we adeptly detect even the most concealed indications of termite presence while ensuring transparency in our termite inspection.
Termite Treatment in Perth
Once we have assessed the situation, we employ specialised termite treatment methods at an affordable cost to eliminate termites from your property. Our treatments are effective and safe, ensuring the eradication of termites while prioritising the well-being of your family and pets. Trust us for reliable and efficient Termite treatment Perth's residents can rely on.
Pre-Construction Termite Pest Control
If you're building a new property, we offer pre-construction termite control services to prevent termites from causing damage from the very beginning. Our proactive approach ensures a termite-free construction process. As a leading provider of termite control in Perth, we guarantee long-lasting results and total customer satisfaction through our exceptional services.
Termite Control Services
As the leading provider of termite control services in Perth, we specialise in addressing diverse needs and budgets. Our wide range of termite pest control services, including spot treatments, barrier treatments, and ongoing monitoring, ensures that we can effectively handle every aspect of termite control in Perth.
Termite Protection
Safeguard your furniture, wooden products, and property from the damaging effects of termites with our dedicated termite protection services in Perth. If you're in search of reliable "termite treatment near me," your search ends here. Our commitment lies in providing prompt and dependable termite solutions in Perth. With our specialised termite extermination and removal services, you can have peace of mind knowing that your property will be free from these destructive pests.
At Tom's Pest Control, we offer comprehensive termite treatment in Perth, ensuring the utmost protection for your property. Rely on our expertise in termite inspection, treatment, and control to address all your termite-related needs. Take proactive measures today and contact us to safeguard your property.
Get the Ultimate Shield Against Termites, Backed by a $2 Million Warranty
Termite Exterminator Extraordinaire: Termidor is a powerful termite spray treatment effective against various types of termites, including dampwood, drywood, subterranean, and Formosan termites.
Pest Control Perth Swears By: Unlike other termite control sprays, Termidor exterminates termites both by touch and ingestion, making it the best choice for white ant control in Perth.
Unbeatable Speed: Termidor controls entire termite populations faster than any other treatment, although it acts relatively slowly on individual termites, ensuring they spread the termite spray to others through contact or feeding.
We're not just confident about the effectiveness of Termidor; we're committed to safeguarding homeowners who choose our Termidor treatment.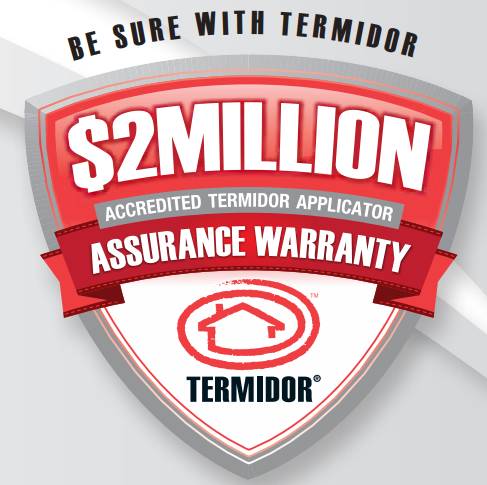 The Termidor Assurance Warranty: Your Ultimate Protection
The Termidor Assurance Warranty is exceptional. It covers your home for structural damage up to $2 million, offering you high-level termite protection both on paper and in the ground. This warranty also ensures your home is treated by an accredited Termidor applicator using genuine Termidor – not an inferior copy.
To activate your warranty, simply talk to your accredited pest controller at Tom's Pest Control Perth. Please note: The Warranty offer is available to Australian homeowners only.
Why Homeowners Trust Termidor
Over the last 21 years, more than 400,000 homeowners have put their trust in Termidor, without a single product failure. Termidor is Australia's number one trusted brand for termite control and provides long lasting treatment for at least eight years. Termidor also comes with a Termidor Assurance Warranty that covers your home for structural damage of up to $2 million to give you peace of mind for your most valuable asset.
Termidor HE The Most Advanced Termite Protection Yet
In 2017 BASF introduced Termidor HE 'High Efficiency' termiticide, the next step in termite treatment following Termidor Residual. Termidor HE is an advanced termite protection solution, which allows the establishment of uniform and consistent termite protection for your home, whilst reducing the risk of damaging the aesthetics of your home.
Why Termidor Is Advanced Termite Protection Yet?
Optimised efficiency with reduced disruption, digging and drilling for application

New Advanced Polymer Technology creates an enhanced protection zone and transport of the active ingredient.

Unique application flexibility with wider drill hole spacing and shallower trench depths for treatment convenience when treating around complex footing designs.

Unique Termidor Transfer Effect™ ensures the powerful active is passed throughout pest populations, without detection, for total population control.

Flexible and adaptable use capacity in conjunction with bait treatments.
Termite Proof Your Home with Australia's Trusted Termiticide
For over 10 years, Termidor has been the trusted brand for termite control in Australia. Now, with the Termidor Assurance Warranty covering structural damage up to $2 million, you can enjoy a new level of confidence, security, and peace of mind.
Whether you need white ant treatment in Perth or are curious about termite spray cost, trust Tom's Pest Control for the best solutions. We're here to help you safeguard your most valuable asset – your home.
Termidor Residual The Original Termite Solution
Termidor Residual Termiticide and Insecticide provides the most superior levels of control against termites, as well as a range of other pests, including ants, cockroaches, spiders, and flies. Termidor has been developed with BASF's advanced non-repellent technology, providing significant advantages over other inferior insecticides.
What's involved?
An Accredited Termidor Applicator will conduct a thorough inspection of your property – should termites be found, a treatment with Termidor Foam will be required to quickly stop activity within your home.
A trench will be dug around your home in preparation for the Termidor application.
Termidor will be applied to the soil as it is back filled.
Holes are drilled through paths and concrete areas or concrete is cut away to gain access to the soil.
Pavers, if not concreted in, must be lifted, the soil treated underneath and the pavers re-laid.
Some soils, such as heavy clays, may be removed and replaced with a sandy loam before treatment.
A follow-up visit is recommended by your Accredited Termidor Applicator.
Ongoing inspections of your home and surrounds at least every 12 months, and more frequently in high risk situations, are recommended.
Why Choose Tom's Pest Control?
Damage Due To Termite Infestation
Termites are not harmful to humans, but they can hurt you financially. Though several hundreds of termite species in Australia, hardly 20 feed solid wood and cause severe damage to properties.
The vast majority of damage to the properties in Perth and the suburbs is caused by several subterranean termite species. These termites are responsible for the following ranges of wear that demand white ant barrier and termite protection in Perth:
Termites breed rapidly and exist in vast colonies, which can cause far more damage than you might anticipate. As such, if you notice any indications of termite activity on your property, we urge you to get in touch with us promptly. We offer thorough pest control services, including termite inspections, in Perth.
Signs Of Termite Infestation
Subterranean termites leave multiple footprints on the property that help the property confirm the presence of the pest. If you see any of the following termite infestation signs, you can contact us for a termite and white ant inspection in Perth: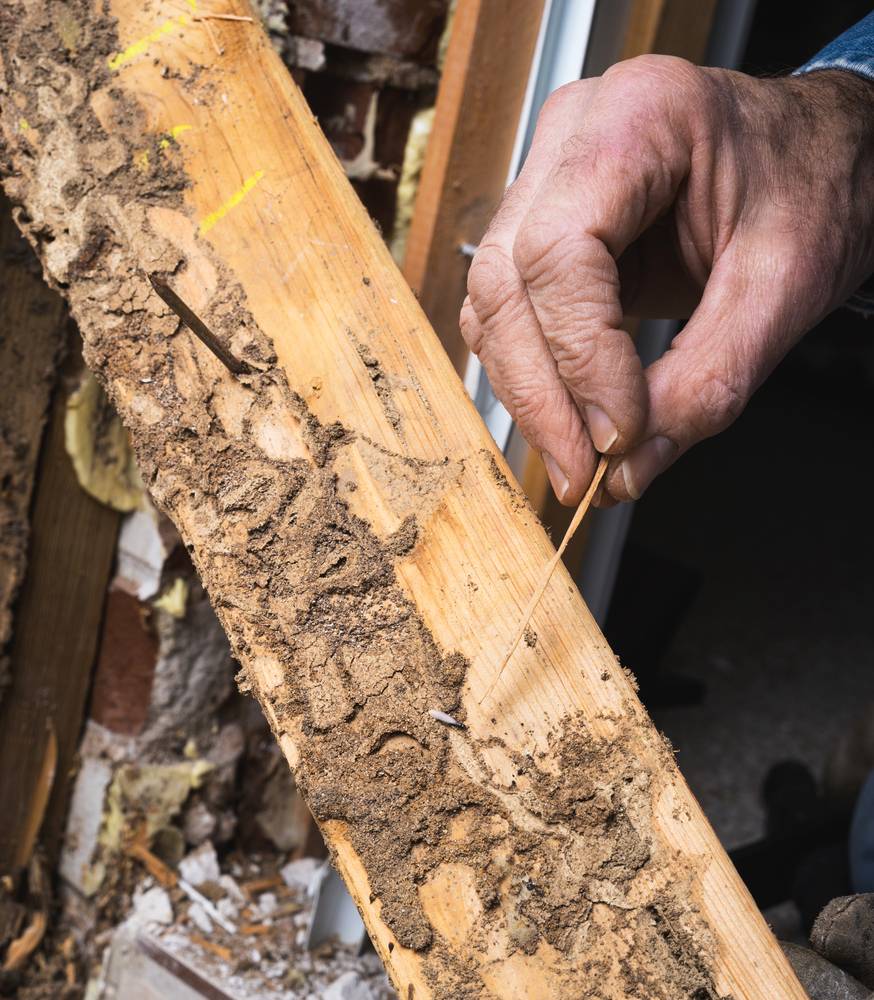 At Tom's Termite Control, we utilise advanced technology and tools to thoroughly inspect your property, ensuring a comprehensive assessment of all pest-related issues. Our goal is to provide you with an affordable termite inspection without compromising on quality or accuracy.
Get Rid of Termites with Our Proven Treatment Process
We offer complete, four-stage Termite Inspection & Treatment. The four stages of the treatment process include:
Termite Inspection Perth
Our pest technicians will come to your property and make a detailed inspection to identify the extent of termite infestation. With our expertise in Termite inspection Perth our team of termite control specialists will conduct a thorough examination of your property to accurately assess the extent of termite infestation.
The examination will also include identifying and documenting the termite species, the level of property damage, the factors of your property that led to the infestation, and more.
We will submit you a detailed inspection report with the infestation details, photographs, and recommendations to address the infestation.
Termite Treatment Plan
Our termite and white ant treatment specialists will create a tailored treatment plan based on the inspection results. The treatment plan will have the details of the
termite extermination
procedures, the treatment timeline, the outcome, and any special instructions to the property inhabitants.
Sometimes, your property may require a follow-up treatment to remove the infestation and give 100 per cent termite protection. We will also include the details of the follow-up treatment in the treatment plan.
The Extermination
Our termite and white ant control specialists will complete the extermination procedure outlined in the treatment plan. We often use a mix of treatment procedures to get optimal pest control results. We generally use termiticides, repellents, termite baits, and termite sheets to remove pest infestation from properties.
At Tom's Pest Control Perth, we use only approved, safe termite treatment products and procedures as we are committed to creating a healthy environment around for customers.
Ongoing Prevention
A one-time termite treatment may not guarantee
permanent results unless no ongoing prevention strategies exist
.
Therefore, w
e do not only give you termite extermination
. However,
based on your property condition, we will
provide
specific ongoing prevention techniques for termite and white ant protec
tion.
In general, the following steps can minimise the termite infestation issues at your property:
Clear clutter in and around your property; they can hide the termite infestation from your eyes.

Remove any pile of wood in your property – both exterior and interior.

Repair leaking plumbing, properly channel the discharge from air conditioners, address hot water system overflow, and remove anything that increases the

property's humidi

ty.

Inspect the property and surroundings regularly to

identify

the traces of termite infestation.
However, termite treatment in Perth costs between $250 and $300. This might rise when the property is large. Primary termite treatment solutions, such as fumigation, spraying, and dusting, might cost between $300 and $800 for a residential space.
Why Choose Tom's Termite Pest Control Perth
We
provide
a wholesome service experience to businesses and households and create a termite barrier around their properties.
The highlights of our termite pest control services include the following: 
If you notice that the pest issues at your property are not subsidised after our treatment, you can contact us within two weeks for FREE retreatment. Our pest technicians will return to your property, perform the treatment again based on your expectations, and ensure the complete wasp removal of termites from your environment.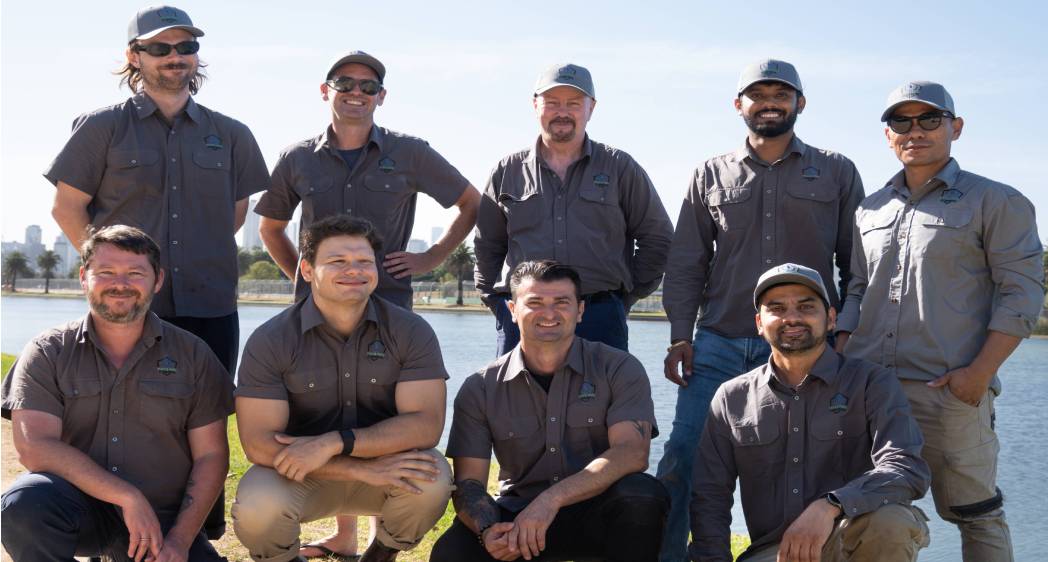 Termite Inspection & Treatment FAQ's
Termidor Termite Treatment® FAQ's
Safeguard Your Property From Termites
Call us today on
(08) 6202 7096
or use our contact form to discuss the termite issues at your property and get an obligation-free quote.