Pest Control Vincent
Do you need professional pest control in Vincent? If severe pest infestation at your Vincent property is bugging you then Tom's Pest Control is your ideal destination. Our licensed pest eliminator knows all techniques and tools to eradicate pests from their root.
We use highly effective and safe pest treatment methods to remove creepy crawling from your home and business property. You can also contact us for a pre-purchase pest inspection before investing in your Vincent property for total confirmation that your pre-purchase property is not under any pest attack.
We apply the best strategies to remove pests permanently from its root and provide complete protection at the most competitive price. Whether you want advice on your ongoing pest control service or looking for a licensed pest exterminator in Vincent, we are your one-stop solution.
Our experience has given us a great understanding of climate, weather conditions and local pest issues across Vincent. We aim to provide a service that is more than just killing the pest. From inspection and extermination to barrier and protection, we do all that can make you enjoy a healthy, pest-free environment with a quality life.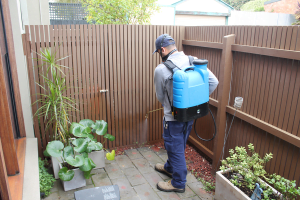 Comprehensive Pest Control Services in Vincent
After working for a few decades in the industry, we have learned how to deal with all complicated issues. We have the knowledge and a variety of solutions for all your specific commercial pest removal needs. Our comprehensive range of services include:
We have all credential and expertise required for commercial pest control for all types of businesses. We use the latest techniques, products, and technology to provides pest control services to all commercial facilities.
Being locals, we know which type of pest species are typical for your office premises or warehouses and create a custom treatment plan to provide you with the most effective solution.
Whether it's a restaurant, education facilities, hotels, healthcare facilities, warehouses, office building or any other commercial property, we service all. Contact us today for your one-time pest treatment or a long-term annual pest control contract.
You can visit our service pages for more information to find out more about our pest removal methods. Thought we are expert in all pest removal services, yet there are some services which are often in demand by the inhabitants of Vincent:
Ant Control Treatment
Ants are the common pests you may often deal with. An ant infestation can be dangerous in the absence of professional help because they invade your property, form colonies, and create nuisances.
A single colony houses thousands of ants. Your DIY treatment may give you temporary relief, but you need professional help for the permanent solution because the problem can't go on its own.
Being your local ant pest control team in Vincent, we can instantly help you through our same day inspection and treatment in most cases. We not only focus on the permanent ant removal of the current pest problem but also safeguard your property from future invasion risk.
Moth Control Treatment Service
Moth breeds in the dark and moist place of your property and infests it. Moth infestation causes damage to your clothes, stored food, leather items, and fur products without your slightest knowledge.
We provide effective moth control services in Vincent at an affordable price to eliminate the moth from your place. Our latest techniques, products, and procedures eradicate moth quickly and effectively from your home and office, providing complete peace of mind.
Rodent (Rat/Mice) Control
We understand how difficult it is to
remove rats and mice
permanently from your property without any expert's help. Rats are destructive pests, and they infest your home, warehouse, or office space quickly. Their presence means damage, financial loss, and health risk.
Our rat and mice control specialists in Vincent have a wealth of knowledge and experience, and they know how to remove rat infestation permanently. We use the latest techniques and methods specific to your requirement for 100% per cent result in the estimated time. Our strategy will solve the current rat infestation issue and prevent the likelihood of future infestation.
Spider Pest Control Treatment
Spiders are aggressive creatures, and some of the species are poisonous also. They cause a health risk and degrade your home's aesthetic appearance and office surrounding through their webs.
Moreover, their webs at your property create an unwelcoming impression for your guests and business clients. If you have started noticing spider webs here and there at your home or office space.
Call us for instant professional assistance. Our skilled spider control technician in Vincent will inspect your property on the same day of your booking. We tailor a treatment plan based on the type of spider species and the extent of the infestation. All our products and techniques safe and comply with the Australian standard.
Residential Pest Control Treatment
The presence of creepy pests, like, bed bugs, ant, cockroaches, rats, moths, and spiders, create a repulsive feeling. They cause property damage and financial loss. Moreover, pest infestation is the source of many dreadful diseases and risks your loved ones' health and well-being.
We are known for providing industry-approved products and services to solve all domestic pest issues from their root. Whether it's your kitchen wardrobe, sink, basement, crawl spaces, or any other pest hiding place, we inspect all to locate the infestation site and destroy it for permanent relief.
Emergency Pest Control Services Vincent
We are available 24/7 for emergency pest removal services anywhere in Vincent and everywhere across Perth. Our professionals have the knowledge, experience, skill, and tool to exterminate all pest species that invade a home or commercial place.
We remain up to date with the latest developments and methods to offer you the best service that is quick and effective. Hire our specialist team for reliable pest termination. Our local team is available immediately to removal pest on the same day of booking for most cases.
Pest control near me: local expertise is just a phone call away!
We are one of the leading pest control Vincent experts, helping you eliminate unwanted pests like a rat, mouse, cockroach, spider, ant, termite, moth, the bed bug, bird, flea, and much more. 

Contact us now on (08) 6202 7096 to discuss your pest issues. You can use our online form for pest-related enquiry. Our expert will assist you with advice and a free upfront quote.
Pest Control Vincent
Call us on (08) 6202 7096 Same Day Pest Control Services
Location: Vincent, Australia.