Pest Control Carramar
Are you searching for advanced pest control in Carramar to restore the healthy environment of your property? Do you see frequent pest issues at your property and feel distressed with it?
We are one of the most trusted names across Australia for superior quality, safe pest management solutions. With a few decades of service, we can provide highly effective pest control regardless of the pest type and complexity of infestation at your Carramar property.
We have TAFE and APCA-certified pest technicians in every suburbs of Perth, including Carramar, to provide quick services.
Get a FREE quote for the pest issues at your property and begin your journey to a pest-free, healthy environment.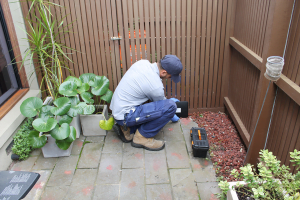 Termite Pest Control Carramar
Termites are a highly destructive pest type to properties, and therefore, the pest infestation gives sleepless nights to every property owner. Termites primarily feed wood – including furniture, and wooden structures – leading structural damage. The pest also damages papers.
We offer tailored termite control services in Carramar for properties with pest issues. Our pest technicians will inspect every inch of your property, identify the termite species, the extent of the infestation, and create a tailored treatment plan.
We will complete both wood treatment and soil treatment to get the best, long-lasting results. Our termite treatment procedures will create a termite barrier around your property to safeguard it from future infestation.
Ant Pest Control Treatment
Perth and suburbs report a number of venomous and non-venomous ants. Regardless of the ant species, most of them bite humans and animal result in localised pain. Additionally, they consume food, damage clothes and papers, and become a nuisance to your peaceful life.
Through a comprehensive inspection, our ant pest technicians will identify all the colonies of ants in and around your Carramar property. We will create a tailored ant pest treatment and control plan and complete the ant extermination using safe procedures. Based on our inspection, we will also make preventive treatments and provide you with specific ongoing control tips.
Rodent Control Treatment
Rodents are one of the most visible pest groups in properties. Considering the extent of damage the pest group make, you don't wait if you notice the pest infestation at your property. Rats and mice carry pathogens and spread a number of diseases, create various damage to properties, consume food and contaminate them, chew insulation, and more.
Our pest rodent control Carramar technicians will identify the factors that invite rodents to your property, locate their hiding places, exterminate them, and make your property pest-free. We will also repair various opening at your Carramar property, complete ongoing control measures, and advise you specific property and yard maintenance tips for long-term results.
Bird Prevention and Protection
Properties in Carramar increasingly report a number of bird species that take away the healthy environment of their properties. Pigeons, seagulls, doves, Indian mynas, and house sparrows are some of the pest birds that can mess up your property hygiene. They can also introduce various pathogens to your environment through droppings, feathers, and their body.
Our trained bird control Carramar technicians will remove birds from your environment by trapping them. We use only humane methods for pest removal. Additionally, we will put nets, bird spikes, and wire mesh at your Carramar property, based on the level of infestation, to avoid future infestation.
Other Pest Management Solutions
We have solutions for all the pest issues at your Carramar property. Our other pest management solutions include the following:
Borer control
Mite control
Fox trapping and control
Possum control
Bed bug treatment
Beetle control
Wasp extermination
Mosquito control
Silverfish treatment
Cockroach extermination and control
Flea treatment and control
Spider extermination and control
Fly control
Learn about the specific pest management procedures, highlights of services, ongoing control plans, and more by visiting our service pages. You can also reach out to our pest technicians in Carramar with your questions and concerns if you want to learn more.
Commercial Pest Control In Carramar
Pest infestation on the premises is not a good sign for any business. Ignoring pest infestation at commercial spaces often end up with paying hefty prices in the form of reputation damage, business loss, and regulatory action. When negative reviews and feedback online can take a toll on the business, you should always pay attention to the "pest factor".
We offer customised commercial pest control in Carramar to help businesses to make their spaces pest-free and welcoming.
General Commercial Pest Control
Commercial places often attract more than one pest type. Restaurants, supermarkets, cafes, and food processing businesses are more increasingly prone to multiple pest issues due to the type of business they run. In many cases, they want a single treatment to address all the common pest issues in their environment.
We offer general commercial pest management Carramar that removes the following pests from your environment:
Cockroaches
Ants
Spiders
Silverfish
Fleas
Flies
Mosquitos
Beetles
Mites
With minimal hassles to your operational hours and all at the cost of a single treatment, you will get the option to create a pest-free environment at your property.
Pest-Specific Services
Do you have a different pest type and can't secure your space with our common pest solution? We offer pest-specific services to help our customers to safeguard their space. Our range of pest-specific services are the following:
Termite control
Rodent control
Wasp treatment and control
Possum removal
Fox trapping
Bird control
We use only family-friendly, safe, and Australia-approved pest control products for our procedures. This way, we help our customers to create a healthy and welcoming environment at their properties.
No matter you are a business or residential property owner, you will get the same/next day service. Based on the pest issues, we can also provide you with emergency services to quickly address the escalating pest issues in your environment.
Pest control near me: local expertise is just a phone call away!
Call us on (08) 6202 7096 or use our quote form to discuss the pest issues at your Carramar property with our pest technicians and get an upfront quote.
Pest Control Carramar
Call us on (08) 6202 7096 Same Day Pest Control Services
Location: Carramar, 6031, Australia.