Pest Control Brabham WA
When it comes to any kind of infestation, extermination is a must. This is where Tom's Pest Control comes in.
Our certified Brabham pest control exterminator
is just a phone call away whether you are experiencing a small or huge infestation.
They can stop all the ants marching around your home, the spiders lurking around, the possums making very loud noises at night, or worse, the termites wanting to eat the wood your home is made of.
Our exterminators show no mercy to pests. Their work adheres to Australian Standards to ensure that the presence of pests will no longer hinder our customers. Having been in business for many years now, we have established ourselves as the leading pest control provider in Brabham due to our high standards and superb workmanship.
We never use any products or methods that can negatively impact your health, your family, employees, pets, and plants. As a result, countless customers have benefited from using our services; so can you!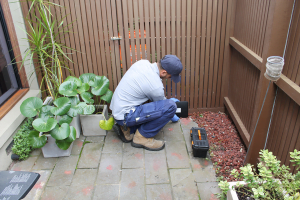 One-Point Contact Experience
Tom's Pest Control offers premium pest control and inspection services. Whether you need us to conduct our services for your home or your place of business, we provide effective treatments designed to exterminate every pest in your property and stop them from ever coming back. Such treatments include:
Termite Extermination
Termites are ravaging by nature and having them infest your home or business premises can lead to dire consequences.
In fact, the timber damage they cause is so severe that most building insurance policies do not cover the associated repair costs, leaving you heavily out of pocket.
If you see any signs of termite activity anywhere around your property, get in touch with Tom's Pest Control today for first-rate termite treatment in Brabham that can stop your infestation from getting any worse.
Bee Control
It is very common for people to be allergic to bee stings. In fact, they can prove to be deadly! If you see a beehive on your property, which can house thousands of bees, you mustn't take any action to get rid of the beehive yourself. Doing so may provoke the bees to attack you! Tom's Pest Control in Brabham has the expertise and the equipment required to remove beehives safely. Give us a call to arrange for our trained pest control professionals to remove the bees on your property quickly and safely.
Spider Extermination
Countless spider species call Western Australia home. Although not all of them are poisonous, no one should try to remove any spider nests on their property without professional assistance.
You should call Tom's Pest Control to resolve this problem for you. Our team of licensed spider exterminators have the knowledge, experience, and protective gear needed to identify the type of spider infesting your property correctly, find the location where they are entering the property from, and safely put an end to the infestation.
Possum Control
Many people think possums are harmless, but they can actually cause a lot of problems. They are known to get into properties and build nests inside rooftops and ceiling voids. They usually carry fleas and ticks that can infect pets and their faeces contain bacteria that can cause illnesses, including flesh-eating ulcers.
However, as it is illegal to kill possums, a professional should be hired to get rid of them. Tom's Pest Control's team of professional pest control experts are certified by the HACCP and are trained to carefully remove possums from your property in a way that does not hurt them.
Commercial Pest Control In Brabham WA
Pest infestations are a very common occurrence that many building owners and business proprietors around the world have had to deal with. Pests are known to infest all types of commercial buildings, including offices, restaurants, hospitals, warehouses, schools, hotels, and elsewhere.
Pests are not only bad for your health, but also bad for business; they can have an impact on both your goods and your establishment's reputation, both of which can cause potential customers to take their business elsewhere.
Tom's Pest Control in Brabham provides quality commercial pest control services that will consider your specific circumstances when doing our work.
We are well aware of how much inconvenience pests can cause and we, therefore, take our job very seriously. Our commercial pest removal service is designed to remove any type of pest from your premises. If you have seen any insects or rodents around your place of business, call us today!
Our Time-Proven Strategy
Tom's Pest Control's licensed team of exterminators are renowned throughout the pest control industry. We have earned our good reputation by implementing a four-step strategy that will determine how the pests got into your property and will get rid of them.
Step 1 – Inspection:In order for our exterminators to know which pest removal tactic to follow to achieve the desired outcome, they have to inspect your property. They will lookout for any signs of pest activity to get a good idea of the level and type of infestation they are dealing with. Most inspections take approximately 40-60 minutes to finish, although this will depend on your property's size, condition, and age.
Step 2 – Tailored Plan:Once our exterminator has finished conducting an exhaustive inspection all-around your premises, they will formulate a plan designed to combat the type of pest infesting the building.
Step 3 – Treatment:Our pest control professional will then commence a pest removal treatment that takes the layout of your building and the circumstances pertaining to your infestation into consideration. Depending on what type of pest it is, they will either remove or terminate it as quickly as they can.
Step 4 – Ongoing Prevention:Our exterminator will recommend that you arrange for them to inspect your property again multiple times in the future in 3 to 6 month intervals. This is absolutely necessary if the pest in question is termites; the exterminator will need to check your property as per Australian Standard AS4349.3.
Contact Us Today!
Please get in touch with Tom's Pest Control to ask about our first-rate extermination services that will target specific pests. Give us a call on by calling on
1300 866 773
or fill in our
online form
for rodent, possum, insect, or termite pest control Brabham.