Pest Control in Aveley WA
Tom's
Pest Control
has a team of licensed pest technicians who are fully licensed to carry out termite pest control for Aveley-based customers and other types of pest control services. No matter what the problem is, we can promise our customers that we will quickly resolve the problem.
Termites cause more damage to Australian homes and workplaces than fires, storms, and floods put together. As many as one in five properties get infested by these nasty creatures that can cause extremely expensive damage that can cost thousands of dollars to fix. This is why most property insurance policies do not cover termite damage at all!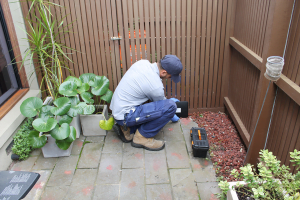 Contact To Experience Pest Control Experts in Aveley
Tom's Pest Control is your trustworthy local provider of pest control in Aveley. Our knowledge of the weather and climate conditions of the area has given as an advantage when combatting pest infestations. We are well aware what factors may attract the types of pests that can potentially infest properties in the area. This allows us to implement any of the following treatments that will permanently get rid of these pests.
Termite Extermination
The best way to stop
termites from further infesting and damaging your property is by calling Tom's Pest Control
. We provide the very best
termite pest control
in Aveley and elsewhere in Perth.
We will inspect your property to find any entry points that the termites could exploit to enter your premises. This inspection will determine both past and current activities of the termites and the present overall state of your infestation. Once we understand how the termites operate, we will then implement a termite extermination treatment that will solve the problem.
Flea Treatment
Fleas are common parasitic pests that infest properties throughout Perth that live by consuming the blood of both humans and pets. Not only do flea bites cause itchiness and infections, it discharges an anti-coagulant into its target's bloodstream that stops blood from clotting that makes it easier for fleas to keep consuming your blood.
Fleas usually get into houses by attaching themselves to pets and moving into the carpet before moving to the closest human body. If you want Tom's Pest Control to dispose of the fleas in your home, we recommend that you start by treating your pet for fleas and thoroughly vacuum every carpeted and timber floor before we come over and start our work. This will make it much more likely for us to achieve a successful outcome.
Rodent Control
Rodents like rats and mice
are usually attracted to environments that store a lot of food, which is why they infest so many family homes as well as certain places of business. They are very unhygienic pests that tend to carry various diseases that can pose a serious threat to the health of your family and employees.
Not only that, they also commonly cause damage to your property by chewing on electrical wiring and wooden structural beams. Tom's Pest Control in Aveley is able to implement a number of treatments and use high-quality rodent baits that will successfully get rid of any rats or mice on your property.
Commercial Pest Control In Aveley WA
Any type of commercial environment should be completely pest free. This is essential for ensuring the safety of your employees and keeping the place hygienic.
Having rodents, birds, insects, and other types of pests lurking around can lead to you a great deal of damage to both your property and your products
, both of which will have dire consequences for your business.
If you suspect that some type of pest infestation is occurring on your premises, then you should contact Tom's Pest Control to carry out a commercial pest removal service as soon as possible.
Not doing so will simply lead to the infestation getting worse and the amount of property damage to increase and become incredibly expensive to repair. The sooner you get us to solve the problem for you, the sooner your business will start running smoothly once again.
Our Time-Proven Strategy
Having provided rodent, insect, and termite pest control to Aveley homes and businesses, as well as other pest control services, we have gained the knowledge needed to combat all sorts of pests. We have used our extensive experience to develop a unique four-step strategy that makes it very easy for us to exterminate pests.
Step 1 – Inspection:Our technician will conduct an inspection of your property to search for evidence of an infestation and possible nesting locations. They will inspect the structure of your home and all interior spaces, such as walls, roofs, windows, doors, and floors, and exterior spaces, such as driveways and patios. This will allow our technician to understand the true extent of the infestation.
Step 2 – Tailored Plan:Our technician will tell you how much damage has been caused by the pests and what specific pest control solutions should be applied to rid your property of these pests for good.
Step 3 – Treatment:Our specialist will utilise state-of-the-art equipment and products as well as industry-approved techniques that will promptly exterminate the pests and safely remove them from your premises. We take the health and safety of you and your family or employees into consideration when conducting this work.
Step 4 – Ongoing Prevention:If there are any conditions that might cause pests from re-infesting your property, our technician will recommend you let them conduct semi-regular inspections. This will allow them to stay up to date with the state of your property and stop any future pest infestations from occurring.
Tell Us About Your Needs!
If you would like to eliminate the unwanted guests lurking around your residential or commercial space, get in touch with the certified exterminators at Tom's Pest Control in Aveley today. Not only can we get rid of all types of pests, we can also provide you with practical, detailed, and honest advice that will hopefully prevent them from ever coming back. Call
1300 866 773
or fill out our
online form
to book our services.