Pest Control In Rossmoyne
Are you worried about pest infestation at your property and in search of a great package of pest control in Rossmoyne? Tom's Pest Control is a specialist pest control company across Perth. Our licensed and trustworthy pest eliminator uses highly effective and safe pest treatment methods to remove creepy crawling from your area.
If you want a certified and approved pest technician for your home and office, it is the best choice to take our service and assistance. We also offer a pre-purchase pest inspection service for total pest elimination and permanent relief.
Our skilled pest exterminator team has the best strategies that remove pests permanently and provide complete protection at the most reliable price. Whether you want professional advice or have any pest-related queries, we are available 24/7 to solve all your problems.
Our long years of experience has given us a great understanding of climate, weather conditions. and local pest issues across Perth, including Rossmoyne. Our service more than just about eradicating the pest. We do all for the permanent pest removal from your environment, from inspection and removal to barrier and protection.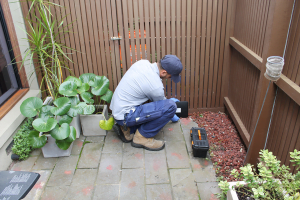 Complete Pest Control Services in Rossmoyne
After working for a few decades in the industry, we have seen it all. We have the knowledge and a variety of solutions for all your specific pest issues. If you want any assistance with your on-going pest management process, you can count on us. Our comprehensive range of services include:
You can browse our service pages for more information or contact us directly to find out more about our pest removal services.
Ant Control in Rossmoyne
Ants infestation can be dangerous if professional treatment is not given on time. They multiply in no time and form colonies. A single colony houses thousands of ants, and they create an unavoidable nuisance.
If you believe in your DIY treatment for the permanent solution, then you are risking the wellbeing of your family. It may temporarily help you, but you must book our specialist ant removal services in Rossmoyne for the permanent solution.
We are your local pest removal partner who helps you instantly help by operating on the same day of the appointment. With a focus on the permanent removal of the ant population from your property, we also safeguard it from future invasion risk.
Rodent Or Mice Removal in Rossmoyne
Rat infestation not only causes severe damage to your property and personal belongings but also pose a threat to health and hygiene. They carry pathogens and transmit diseases. Tom's Pest Control is an expert in handling this challenging task with complete care and perfection.
Our rodent control technicians have experience and knowledge of killing rats completely. We treat the root cause of an issue to ensure no relapse in the future.
Moth Control Services Rossmoyne
Moth infestation needs immediate attention. It prefers dark places to breed and increase the population. It causes damage to your clothes, stored food, leather items, and fur products without your slightest knowledge.
We provide effective moth control services at an affordable price around Rossmoyne to eliminate the moth from your place. We use up-to-date techniques, products, and procedures to remove moth quickly and effectively from your home and office for the long-term.
Spider Treatment in Rossmoyne
Although most of the spider species are harmless and you may consider their presence as a part of your life, still you can't ignore the fact that they are harmful. Being aggressive, they create webs on everything and give the impression of the dirty and unhygienic surrounding. It impacts your place's aesthetic appearance and creates an unpleasant experience for your guests and business clients.
If you notice spider webs, call us for instant professional service. Our technician will give an immediate visit to your property for a thorough inspection. We will create a custom treatment plan based on the type of spider species and the infestation level. All our products and techniques safe and comply with the industry standard.
Commercial Pest Control In Rossmoyne
Tom's Pest Control uses the latest techniques, products, and technology to provides commercial pest control services to all commercial facilities. Our fully certified and insured pest control specialist offers a full range of commercial pest elimination at a competitive rate. We know how to treat different pest species that invade and disturb your commercial activities.
Whether it's a restaurant, education facilities, hotels, healthcare facilities, warehouses, office building or any other commercial property, we service all. Contact us today for your one-time pest treatment or a long-term annual pest control contract.
Residential Pest Removal Services
The presence of creepy pests at home troubles you by taking away your peace of mind. Pest like ants, cockroaches, bed bugs, rats, and spiders cause an infection that is risky to your health and property. Call us today to remove them at a reasonable cost.
We work 24/7 to solve your domestic pest issues. Whether it's your kitchen wardrobe, sink, basement, crawl spaces, or any other pest hiding place, we inspect all to locate the infestation site and solve the issue from its root.
Emergency Pest Control Services Rossmoyne
Tom's Pest Control experts are available 24/7 for emergency pest removal services anywhere and everywhere across Perth. Our professionals have the knowledge, experience, skill, and tool to exterminate all pest species that invade a home or commercial place.
We remain up to date with the latest developments and methods to offer you the best service that is quick and effective. Hire our specialist team for reliable pest termination. Our local team is available immediately to removal pest on the same day of booking for most cases.
Are You Having Pest Problem in Rossmoyne?
 We are one of the leading pest control Rossmoyne experts, helping you eliminate unwanted pests like a rat, mouse, cockroach, spider, ant, termite, moth, the bed bug, bird, flea, and much more. Our aim is to provide high standard professional pest management services for both residential and commercial areas.

Contact us now on (08) 6202 7096 to discuss your pest issues. You can use our online form for pest-related enquiry. Our expert will assist you with advice and a free upfront quote.
Pest Control Rossmoyne
Call us on (08) 6202 7096 Same Day Pest Control Services
Location: Rossmoyne, 6148, Australia.